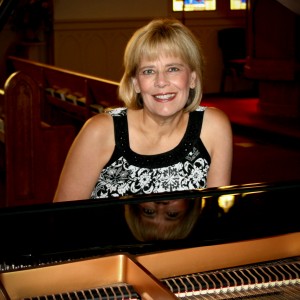 Jacqueline Johnson
Owner & Director
Contact – jacquie@reedleyschoolofmusic.com
Jacqueline Johnson began studying piano at age 4 and organ at age 15. Specializing in early childhood music education, she has been the owner of the Reedley School of Music since 1988.  She is currently its director and senior instructor. She has been the organist at Concordia Lutheran Church for over 30 years and is a charter member of Concordia's handbell choir.
Her piano instructors have included Zenora Swanson, Ena Bronstein, and Sally Christian. She studied organ with Richard Galloway, James Strand, Laurell Huber, and Aran Vartanian. She trained with the Yamaha Corporation and taught in the Yamaha Schools for 14 years.
Mrs. Johnson has accompanied extensively in the Central Valley and the Kingsburg School District. She formerly conducted early childhood music classes for the Tulare County Schools. She is a former Arts in the Schools performer and has performed throughout the valley for many years as part of a piano four hands and piano and organ duo with Zenora Swanson. She is a member of the American Guild of Organists and is a former member of the executive board. She is a charter member of the Fresno Pipe Organ Academy and participates in conducting Pipe Organ activities for students throughout the San Joaquin Valley.
Hannah Hentzler
Instructor – Piano, Classroom Music
Contact – hannah@reedleyschoolofmusic.com
Hannah Hentzler began studying piano with Jacquie Johnson at age 4. In 2007 she began assisting and teaching at Reedley School of Music. When she is not teaching lessons and classes at the school, she is attending college, majoring in psychology with a minor in music. She plans to become a school psychologist, and to specialize in working with children of all ages. Hannah brings a high level of skill to her students and provides them with a well-rounded and complete musical foundation!
Bernadette Tasy
Instructor – Piano
Contact – bernadette@reedleyschoolofmusic.com
Bernadette Tasy began studying piano at age 4 at Reedley's Yamaha Music School. Her instructors include Jacquie Johnson and Zenora Swanson. She has been very active in church and school music programs and has been an accompanist and musical director for Kings Canyon Unified School District. Bernadette is also a summer tennis coach at Reedley High School and a vocal director for Reedley's River City Theatre Company. She began teaching lessons privately in 2011 and is now pursuing a degree in Communicative Disorders with a minor in music at Fresno State University. Bernadette loves to be involved with sports, theater, and is committed to serving her church and local communities.
More information on our newest teachers coming soon!